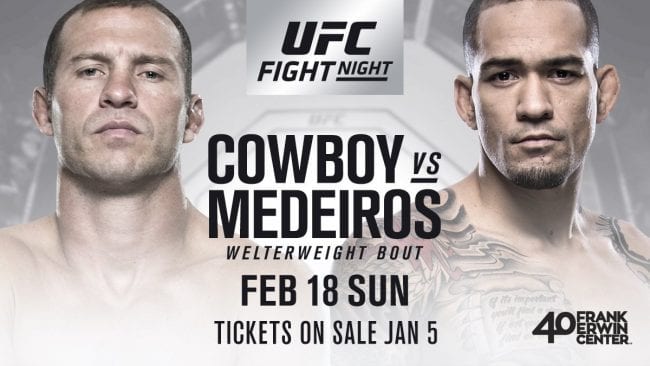 The UFC is back action, as they return to Austin, Texas for a rare Sunday card. Headlining the event, is UFC staple Donald "Cowboy" Cerrone against the rising Hawaiian Yancy Medeiros. Cerrone comes into this bout on a three fight losing streak, which is crazy given that Cerrone up until the losing streak had never even lost back-to-back fights in his over 40 professional fight career. Perhaps father time has finally taken it's effect on Cerrone, but I still believe that there's more in the tank. As for Medeiros, the Hawaiian strolls into this bout on the heels of a three-fight win streak. Even more impressive, Medeiros has finished all three opponents and collected bonuses in two of them. This is by far the biggest named fight Medeiros has been in and a with a win, there's a possibility of cracking the top ten. 
Anyways, let's get to the predictions!
UFC Fight Night 126 Main Card on FOX Sports 1 (9 p.m. ET):
170 lbs.: Donald Cerrone vs. Yancy Medeiros – For as long as this last, it's bound to be a wild fight. Cerrone hasn't taken to punishment anymore like he used too, meanwhile Medeiros fights with zero defense. While everyone seems to be writing off Cerrone, especially with the destruction that Till brought upon him, I'm not quite ready. I believe there's still more in the tank and now that Cerrone has lost three consecutive fights, there will be more urgency to fight smart. That means not engaging in brawls, keeping distance and using leg kicks to slow down Medeiros. And that shouldn't be hard to given Medeiros comes forward with zero concern of blocking strikes. So with that, I have Cerrone quieting his doubters and winning this via knockout. 
265 lbs.: Derrick Lewis vs. Marcin Tybura – In defeat against Fabricio Werdum, I believe that Tybura showed his ability to take punishment and keep coming. Even though he was outmatched, he never broke and showed he had the cardio to go five rounds against one of the very best Heavyweights in the world. However, even though I'm buttering Tybura up, I'm not picking him. 
Lewis is a different animal on the feet, featuring athleticism and dynamite in his hands. Also if you're not expecting them, he will throw up a head kick once in awhile. If Tybura attempts to take down Lewis, he probably will have difficulties given Lewis's size. Even if he does get the takedown, Lewis pops back up like no other. So with that, I have Lewis winning this via knockout. 
155 lbs.: Francisco Trinaldo vs. James Vick – At 39 years of age, Trinaldo has shown no signs of slowing down. Since August of 2014, Trinaldo has amassed an 8-1 record inside the octagon. He's beaten notables like Jim Miller, Yancy Medeiros and Ross Pearson. However, in this particular fight I have to go with James Vick. He's 6′ inches taller and will have a 6′ inch reach advantage. He's the better striker, has better cardio and even if Trinaldo takes him down, his guard features some of the slickest submissions. With a chip on his shoulder, I'm expecting Vick to go for the finish. So with that, I have Vick winning via 3rd-round TKO. 
170 lbs.: Thiago Alves vs. Curtis Millender – Although Millender is making his debut against an absolute veteran in Alves, I still believe he gets the job done. I mean, Alves has one win since 2015 and it's against Patrick Cote who retired afterwards. Millender is young, athletic and features a devastating kicking game. He's also going to have a massive 8′ inch reach advantage. So with that, I'm going with Millender via decision.
145 lbs.: Brandon Davis vs. Steven Peterson –  Davis is coming into this fight as a late replacement, which I like given his lackluster UFC debut. He's actually talented and more vicious on the feet that he showed. So with that, I believe Davis shows his true colors and wins this fight via knockout. 
155 lbs.: Sage Northcutt vs. Thibault Gouti – This seems like a sacrificial fight to me, as Gouti is 1-3 in the UFC and has been finished in all those defeats. It's no secret the UFC is trying to build up Northcutt and I dig it. So with that, I have Northcutt winning via submission.  
UFC Fight Night 126 Prelims on FOX Sports 1 (7 p.m. ET):
155 lbs.: Diego Ferreira vs. Jared Gordon – I'm a big fan of Gordon's fighting style. He uses his durability, cardio, forward pressure and volume striking to break opponents. While I don't see Ferreira necessarily folding, I do however see him getting outworked.
170 lbs.: Brian Camozzi vs. Geoff Neal – Man this card is rough… Neal via decision.
125 lbs.: Joby Sanchez vs. Roberto Sanchez – The battle of the Sanchez's! Don't know much about Roberto, but I've seen Joby fight several times in his first UFC stint. So with that knowledge, I got Joby Sanchez via decision.
135 lbs.: Sarah Moras vs. Lucie Pudilova – This is a toss up, but I'll side with Moras on account of her dangerous guard game. So with that, I have Moras via submission. 
UFC Fight Night 126 Prelims on UFC Fight Pass (6 p.m. ET):
170 lbs.: Josh Burkman vs. Alex Morono – Although I like fighters with their backs up against the wall, I simply can't pick Burkman. He's lost four fights in a row and six of his last seven. So with that, I have Morono via knockout. 
185 lbs.: Oskar Piechota vs. Tim Williams – Don't know too much about either, although I recall Piechota's debut was pretty decent. Hell, I guess that's what I'll base this prediction off of. So with that, I have Peichota via decision.